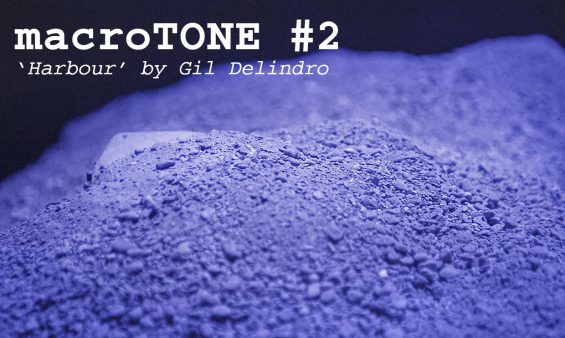 After microTONE, where we asked artists to design sound art in a box for one person, we are zooming out on macroTONE. macroTONE is about realizing a sound art work for a specific architecture / usage space. For this project we're collaborating with Marineterrein Amsterdam and aiming at the elongated architecture of the former shooting range.
Two artists/entries are selected to work with us. The first edition of macroTONE was held in July and August. In October and November you can visit Marineterrein Amsterdam for the second edition.
This works are presented in collaboration with Marineterrein Living Art Lab and will be shown in the former shooting range of Marineterrein Amsterdam. The works will be focused on the space itself, the elongated architecture of the shooting range and the theme of the work will relate to one or more of the following themes: Art & Science, Artistic Research, Circular City, Water, Traffic (data), Health and/or Learning.
---
macroTONE (october/november):
'Harbour', presented by STEIM and sound artist Gil Delindro.
Harbour is the second piece in a new series of works that explore the relation between "Industrial and Organic geographies". It departs from detailed sonic recordings of the Amsterdam coastline and its most important harbours. A documental archive that is created with particular attention to very low frequencies, often generated by mechanic engines, boats and heavy machinery.
The project studies spectrums of sound that are normally not accessible to us, by using very low frequencies and infrasounds as sculptural tools. The result is an installation that induces low vibration on raw materials and sediments.
macroTONE (second edition)
October 16th – November 7th
Due to restrictions because of Covid-19 we unfortunately had to cancel the last weekend (5-7 november) of macroTONE #2.
On thursdays, fridays and saturdays
From 3 PM to 6 PM
Marineterrein Amsterdam
Kattenburgerstraat 5
1018 JA Amsterdam
Former Shooting Range in Building 22: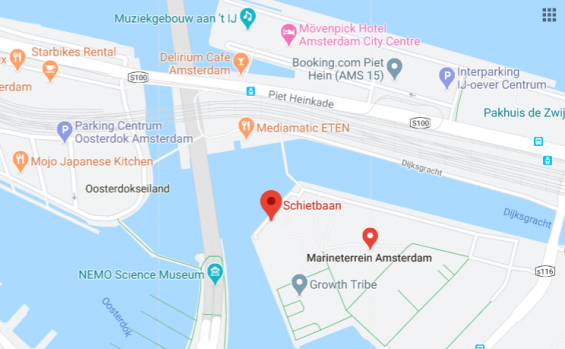 ---
macroTONE (july/august):

For the first edition of macroTONE Geert-Jan Hobijn en Radboud Mens were collaborating and presented their work in July and August. Their sound art work 'Live is a Guitar Drag' was specifically designed for the former shooting range of the Marineterrein Amsterdam in the context of the 'Living Art Lab' program. More info about this project can be found in dutch below.
Geert-Jan Hobijn graduated in tax law and studied art at the Rijksakademie in Amsterdam. In the mid 80's he started his own record label: Staalplaat. Around 2000 he focused more and more on his artistic fascination for sound.

Radboud Mens is a sound-artist, composer and sound designer. Next to his solo work, he has worked with a broad variety of artists.

macroTONE (first edition)
July 17th – August 15th
on thursdays, fridays and saturdays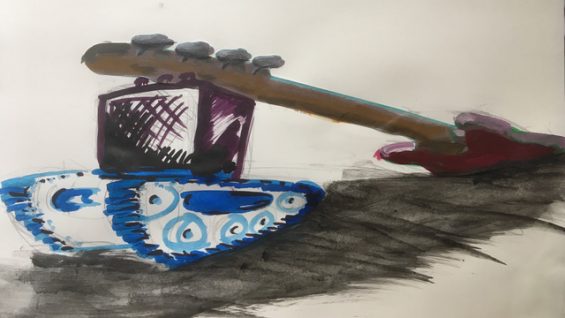 ---
Na microTONE, waarbij we kunstenaars vroegen om geluidskunst in een doos voor één persoon te ontwerpen, zoomen we uit op macroTONE. macroTONE gaat over het realiseren van een geluidskunstwerk voor een specifieke architectuur / gebruiksruimte. Voor dit project werken we samen met Marineterrein Amsterdam en richten we ons op de langwerpige architectuur van de voormalige schietbaan.
Drie geluidskunstenaars en twee geluidskunstwerken zijn hiervoor geselecteerd. De werken zullen ieder 1 maand getoond worden. De eerste maand vond plaats in juli en augustus 2020. De tweede maand zal plaatsvinden in oktober en november.
Het werk is toegespitst zijn op de ruimte zelf, de langwerpige architectuur van de schietbaan. De thematiek van het werk moet zich verhouden tot een of meerdere van de volgende thema's: Art & Science, Artistic Research, Circular City, Water, Verkeer (data), Gezondheid en/of Leren.
De eerste editie van macroTONE vond plaats van 17 juli tot 15 augustus. Het werk van Geert-Jan Hobijn en Radboud Mens was hiervoor geselecteerd: 'Life is a Guitar Drag', dat ze in samenwerking hebben ontwikkeld voor het Marineterrein.
Dit werk refereert aan de oude functie van de ruimte. Binnen de installatie zijn het 120 'solenoids', oftewel magneet-tikkers, die zorgen voor golven van geluid die in wisselende tempo's door de langwerpige ruimte schieten. Een elektrische gitaar vormt samen met een versterker het contrapunt (als 'tegenstelling' tegenover de solenoids). Ook wordt het werk in verband gebracht met de oude functie van de schietbaan. De gitaar wordt namelijk langzaam over de grond gesleept als gewond 'slachtoffer'. Hierdoor ontstaat er tevens een 'drone', een aanhoudende toon die constant lijkt, maar onder invloed van verschillende parameters kleine verschillen vertoont.
Hobijn zegt zelf het volgende over dit project:
"De analoge gitaar, die zichzelf als een levend wezen door die schietbaan sleept, zich uitend in een donkere, trage, organische lang langgerekte toon zet zichzelf tegenover de digitale wereld van solenoids met een kristal heldere zuivere toon. Het is mijn artistieke vertaling van de ruimte die enerzijds simpel, licht en helder is, maar als schietbaan een donkere resonantie geeft."
---