Due to the Corona virus we had to change the way we present this event to our audience and to the world. Unfortunately, we are not able to come together. Not able to listen to your music and your world, but are mostly stuck in our own. This does not mean our research stopped too. Our situation encourages us to look at new ways to continue with our ideas. The ideas of 'Hello world, are you listening?' In short, we are still looking at ways to make the world more musical. Are you still listening?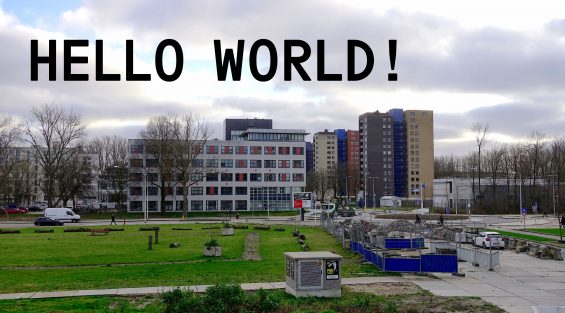 We looked at ways to continue with our 'Hello World' program in a corona-proof way. Therefore, we developed several projects and collaborated with different artists to create (online) projects you can experience from, or at home.
Are you ready to listen to your home and the city of Amsterdam in a completely new way? Which sounds do you hear at home? How to slow down in busy Amsterdam?
NOCITY WALKS
Soundtrackcity, Stichting the Mystifiers and STEIM created the NOCITY WALKS series in response to a new reality we need to adapt to. Instead of moving around on bustling squares, full cafes with vibrant chatter, and the lively sounds of busy streets, we might stay a bit more at home and take walks close by. The series aims for (re-)appreciation of our direct environment. It guides you in finding beauty in the slow downed sounds we are able to hear (and make) in a city that finds itself in a quarantine.
Join us by participating in the Slowdown Amsterdam Walk or download "Homing inside out": A listening guide for home quarantine.
---
HUMANities
At STEIM we make the world more musical in different contexts, one of them is healthcare. During this time it can hardly be debated that this is of the most importance to our world. And as a part of 'Hello world, are you listening?' we at STEIM combine these two, healthcare and making the world more musical. In other words: WeCare at STEIM.
As part of STEIMs WeCare Steering-group, Artur Jaschke wrote a blog: HUMANities, on his 'dual-hatted' position in both the healthcare sector and the art sector. What is his view on the effects of the COVID-19 crisis and the importance of music and sound during this time?