STEIM provides support for various types of residencies. Our focus is very much on Sound Art and we support work in development of music technologies, hardware/software for new sound artwork or, for example, development, refinement or modification of personal electronic instruments for music performance.
Currently Javier Murugarren is one of STEIM's residents. He is working on his project 'BREATH THIS'. About this work he says: "Due to the current circumstances of the COVID 19. I feel this work becomes even more relevant now."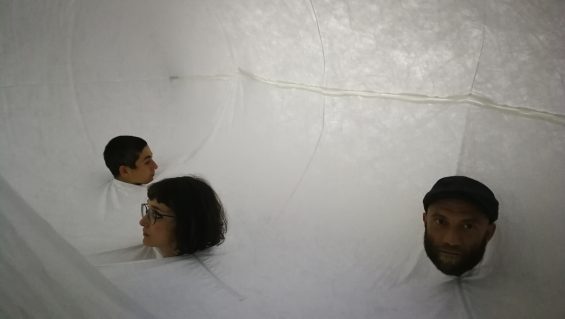 BREATH THIS (Interactive sound and air installation)
Each time the system senses the presence of heat and motion, (most probably by a human approaching the device) an electronic infrared controller initiates a chain reaction where air, sound and light begin to orchestrate dramatically. This experience uses its aesthetic mechanism as a lure to propose an emotional simulator, where the user can experiment and wonder about the possibility of a certain future; where clean air becomes a private good, most likely controlled and priced by a few, as it is already happening with water and seeds.
BTS deliberates on the dilemma of air control and the spread of air pollution as a potential tool of human subordination and social exclusion, while visualizing future exclusive clean zones like this White Bubble, which will mark the segregation of humans at a physiological level: our breathing.
Pre-recorded sequences of choppy breathing and anguished vocal sounds invite the user to place the imagination in an experience of still unreal stress; in which underlies the morbid conflict between empathy and aesthetic experience; the unmeasurable distance of perceiving something wrong and the need to act accordingly.
Concept, sound scape and textile construction: Javier Murugarren
Control hardware and firmware: Frank Baldé
Metal construction: Daniel Rakish
Hardware enclosure design: Rik Wijngaards